Monday, October 5, 2009
8:22 AM |
Dana Kaplan, Stresa Sights
|
Edit Post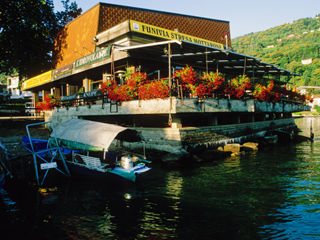 It was the 8th of September, in 1912, and for the very first time, an airplane flew over Stresa. The pilot, a Swiss man named Renato Granjean, flew his Borel
idrovolante
, his seaplane, over the Borromeo Gulf, circling the town and the islands. After this, the beauty of the lake seen from the skies, and Stresa's already existing fame with tourists, brought a greater and greater number of pilots to the area. They offered, for a price, the ride of a lifetime to tourists.
By 1920 this became a big business on Lago Maggiore. Several air companies had formed and incorporated themselves in Stresa. One pilot, Fedele Azari, of Verbania, organized flights for tourists using dirigibles. These were posh affairs, with orchestras and restaurant service on board. Another company, la Societa' Incremento Turiso Aereo, chartered flights from Stresa to Varese and back during the summer months of each year. Three times each week they made the trip with a Macchi M24 seaplane, holding six passengers for each flight and one pilot. The round trip ticket price was 100 lira.
Eventually, a seaplane base, an
idroscalo
, was established at what is now the location of L'idrovolante Ristorante and Internet Caffe. Nearby, there was a hangar, for the protection, maintenance, and repair of planes.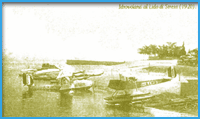 And the business became a bit competitive, with newer, even more exciting attractions. By the 1930s it was possible for brave souls to ride an amphibious glider from the summit of Mt. Mottorone, gliding down for a landing in the water opposite L'idro. Over the years, other little bits of history were made here at the idroscalo. Mussolini landed here in his three-engined Savoia Marchetti S.66 seaplane to attend the Stresa Front conference in 1935. And in 1938, a taste of Hollywood, when Italian director Alessandrini shot some scenes for his film "Luciano Serra Pilota" using the hangar and idroscalo.
Almost one hundred years have passed since that first flight in 1912. Much has changed of course. Planes no longer land here and the hangar is gone. But in its place is the loading station of the Mottarone cableway. And perched at the water's edge where seaplanes once stopped is now the ristorante, bar, and Internet Caffe. One thing hasn't changed however, the view from L'idro... that is as spectacular as ever.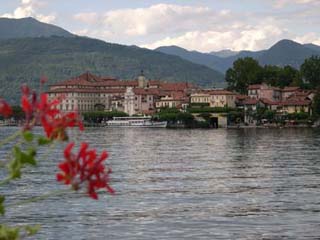 L'idro, as it's commonly called here, is a lot more than just an Internet cafe with a great view. It's also a casual restaurant and bar getting nice reviews on the travel sites. And it has this great history as well...
Lidrovolante
Piazzale Lido, Carciano
Tel. 39 0323 31384
www.lidrovolante.com
photos courtesy of L'idrovolante
story adapted from a history written by Alberto Grappa
Labels:
history
,
restaurants
IMPORTANT POSTS AND LINKS

READ ABOUT...